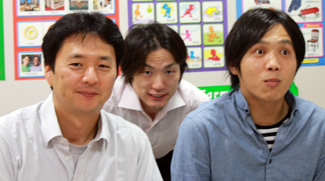 大人グループ

Adult classes are available to people 18 and over. Adult group classes consist of between 3 to 6 members and last for 60 minutes. Students that have family members studying with us receive a 500 yen discount each per month. We offer a no-obligation free trial lesson to students interested in joining our school.
We use the New Headway range of books because they provide interesting and relevant topics, and grammatical structures, for all levels.
In group classes we foster lively discussion between members and actively encourage classmates to peer learn and peer teach. This method is extremely rewarding for all parties concerned.
We use the English for Life series in classes where it is important to finish one topic per lesson. The texts are designed so that each page is a standalone lesson.