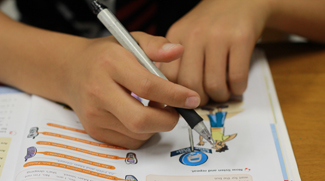 Classes
At Queen's English we endeavour to match our students with the class that will be most beneficial to them in relation to their English ability. We believe that mismatching a beginner to an intermediate or advanced class, or vice versa is to the detriment of the students learning experience and progress.
Classes that are too difficult for students will discourage them because of a lack of understanding, on the other hand a class that is too easy will not sufficiently challenge the student and they quickly become bored with the lesson contents.
Firstly, we separate students into children and adults. Children are divided by age and/or school grade, and adults are divided based on their English profiency. There are 3 levels for adults; beginner, intermediate and advanced. However, we know that everyone has their own particular needs and are willing to discuss other arrangements. It is this flexiblity that makes us a truly customer-oriented enterprise.
We are committed to offering great value for money and hope you find our prices attractive. Our monthly prices are for 4 lessons per month where possible, taking national holidays into consideration.
For most classes a student will need a textbook and an accompanying workbook. While prices vary, the total cost is usually around 4000 yen. We will take care of ordering and supplying you with the necessary materials.
If for some reason you are unable to attend one of our schools in person we are capable of providing online one-to-one lessons. All you will need for this is access to a computer and web camera.